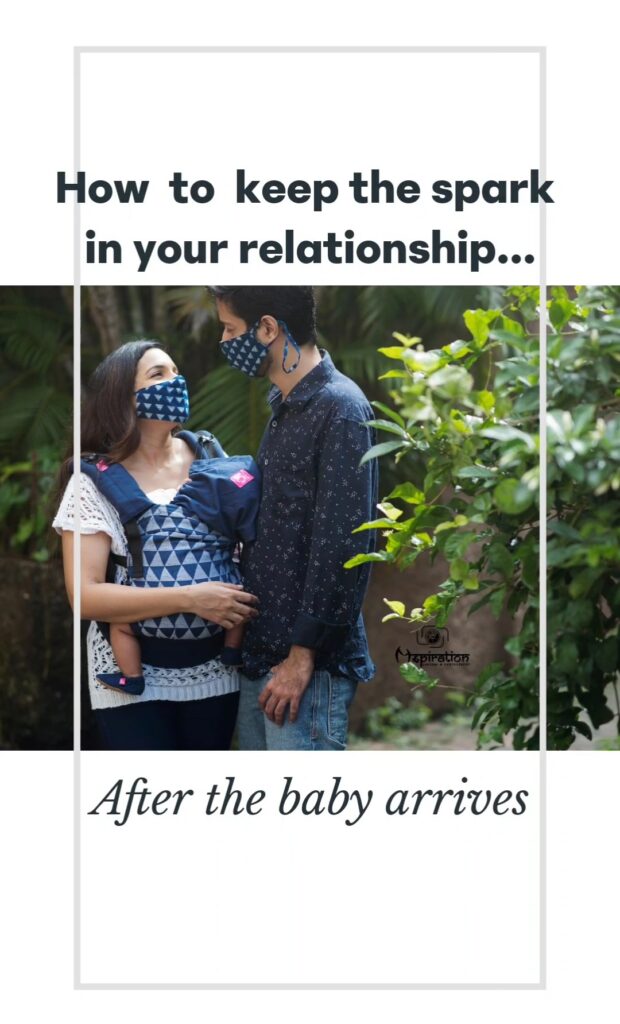 As soon as the baby arrives it is so natural to focus and shower the little one with loads of love .
𝑺𝒐𝒎𝒆𝒕𝒊𝒎𝒆𝒔 𝑰𝒕 𝒔𝒆𝒆𝒎𝒔 𝒍𝒊𝒌𝒆 𝒚𝒐𝒖 𝒄𝒂𝒏 𝒇𝒐𝒓𝒈𝒆𝒕 𝒆𝒗𝒆𝒓𝒚𝒕𝒉𝒊𝒏𝒈 𝒆𝒍𝒔𝒆 𝒂𝒓𝒐𝒖𝒏𝒅 𝒚𝒐𝒖.
𝑩𝒖𝒕 𝒊𝒕'𝒔 𝐬𝐨 𝒊𝒎𝒑𝒐𝒓𝒕𝒂𝒏𝒕 𝒕𝒐 𝒓𝒆𝒎𝒆𝒎𝒃𝒆𝒓 𝒚𝒐𝒖𝒓 𝒑𝒂𝒓𝒕𝒏𝒆𝒓 𝒂𝒏𝒅 𝒚𝒐𝒖𝒓 𝒓𝒆𝒍𝒂𝒕𝒊𝒐𝒏𝒔𝒉𝒊𝒑 𝒂𝒔 𝒘𝒆𝒍𝒍!
𝑹𝒐𝒎𝒂𝒏𝒄𝒆 𝒕𝒂𝒌𝒆𝒔 𝔀𝒐𝒓𝒌 & 𝒶 𝓁𝒾𝓉𝓉𝓁𝑒 𝓂𝒶𝑔𝒾𝒸❣
𝗛𝗲𝗿𝗲'𝘀 12 𝘁𝗶𝗽𝘀 𝘁𝗼 𝗞𝗲𝗲𝗽 𝘁𝗵𝗲 𝗦𝗽𝗮𝗿𝗸 𝗜𝗴𝗻𝗶𝘁𝗲𝗱
Perform daily romantic gestures to remind your partner of the romance. It could be as simple as sitting together to have coffee in the morning while the baby sleeps, leaving love notes on the bathroom mirror or leaving small little inexpensive gifts to make their day. Small acts of love don't take much effort or time, but they do show your partner your love and care.
PDA– No I don't mean literally PDA in public but don't be shy about your love around your partner. Be free and vocal about your thoughts and love. Physical contact is vital for a happy married life, so hold hands, dance away and keep hugging when you can to create the spark.
Team work– Remember to practice the same parenting style and be a team, so your kids won't be able to turn you against each other.
Pamper & spoil each other – This will make the kids see what real love is and will give them a feeling of safety. They will learn how to express love and understand.
Spoil each other rather than kids. Your relationship will provide your kids with a feeling of safety, and they'll learn how to express love and understand how important partnership is.
Make your partnership a love story– Take out time and reminisce about how you romanced each other before the baby came! Remind- Reconnect – Reinforce the Romance . Keep the sex life going and try and find ways to spice it up with some good music, dim lighting and hey be kind to yourself!
Go out on a date– It can be as simple as a breakfast date, walk at the beach, evening date. ! If you don't have a babysitter take the baby along in a pram/carrier and get out for some fresh air. Use this time to have a great opportunity to talk.
Send sweet, romantic SMS to each other. Remember how you felt in love when you were boyfriend – girlfriend? Rekindle that love and feelings.
FIVE mins talk– In the day at least once, spend this time to ask your partner about their day and give each other your undivided attention. Really listen without judgment when your partner is talking, and try to put yourself in their shoes. You'll be surprised at how a little empathy can go along way in keeping you both connected and strong.
Power of hugs – It may just take a few seconds but it's well worth it!
Never go to bed angry– Always talk things out, discuss and communicate. Don't hold grudges or anger. life is too short . If there is something troubling you, then speak it out with your partner or if you see your partner is troubled and coax it out .The kissing and making up a bit is always fun. 😉
Avoid nagging– Don't do this…Why did you? …Cant you? …Can you just?… Instead replace it with words like "Darling please could you.." "Please can you do…" "Would you be kind enough to…?"
As parents , it can get quite busy  as time is so precious and ones personal life seems so non existent. You can get so tired and overwhelmed with everything but we need to remember to do sweet little things for each other and try and keep the romance alive.  It'll count for so much and make us feel really good about each other and the relationship. This good habit of connecting with your partner regularly will make the journey of being a parent much more enjoyable. Not only that, but this exposes your children to parents who are affectionate with each other, happy to be together and very much in love from a young age. This ensures that they have a good foundation and a model to build their own relationships in the future. This goes a very long way. Stay blessed!