GAIALOGY
10 min read
The link between good nutrition and health is very important and cannot be ignored. Small changes in your diet can go a long way, and it's easier than you think! Eating a healthy and balanced diet can help to ensure that your risk of diseases and serious illness are reduced. The foundation of good health includes the right amount of physical activity daily, a good social life with no bad habits like smoking, and a highly nutritious diet which means high-quality proteins, carbohydrates, heart-healthy fats, vitamins, minerals and plenty of water in the foods consumed.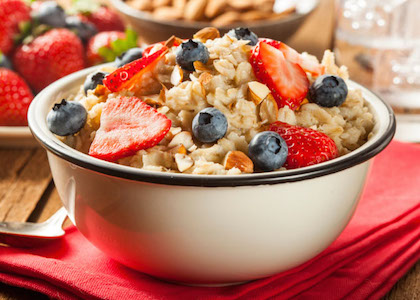 Gaia in Greek means Goddess Earth, a fitting name for a brand that mines the health secrets of the earth. Gaia was founded on the belief that nature offers the best solutions for all health and personal care needs. Gaia has a wide range of nutritional supplements and natural substitutes which aid the body's natural regeneration. Their current portfolio includes nutritional supplements, green teas, green ice teas, muesli, cookies, stevia tablets and sachets as well as health bars.
The link between good nutrition and health is very important and cannot be ignored. Small changes in your diet can go a long way, and it's easier than you think! Eating a healthy and balanced diet can help to ensure that your risk of diseases and serious illness are reduced. The foundation of good health includes the right amount of physical activity daily, a good social life with no bad habits like smoking, and a highly nutritious diet which means high-quality proteins, carbohydrates, heart-healthy fats, vitamins, minerals and plenty of water in the foods consumed. By taking these steps to eating healthy, you will be on your way to getting the nutrients your body needs to stay healthy, active, and strong. To sum it up, your everyday food choices determine your health — how you feel today, tomorrow and as you grow older.
I tried out a few of GAIA's products from various categories and I am delighted to review them and let you know more about each product.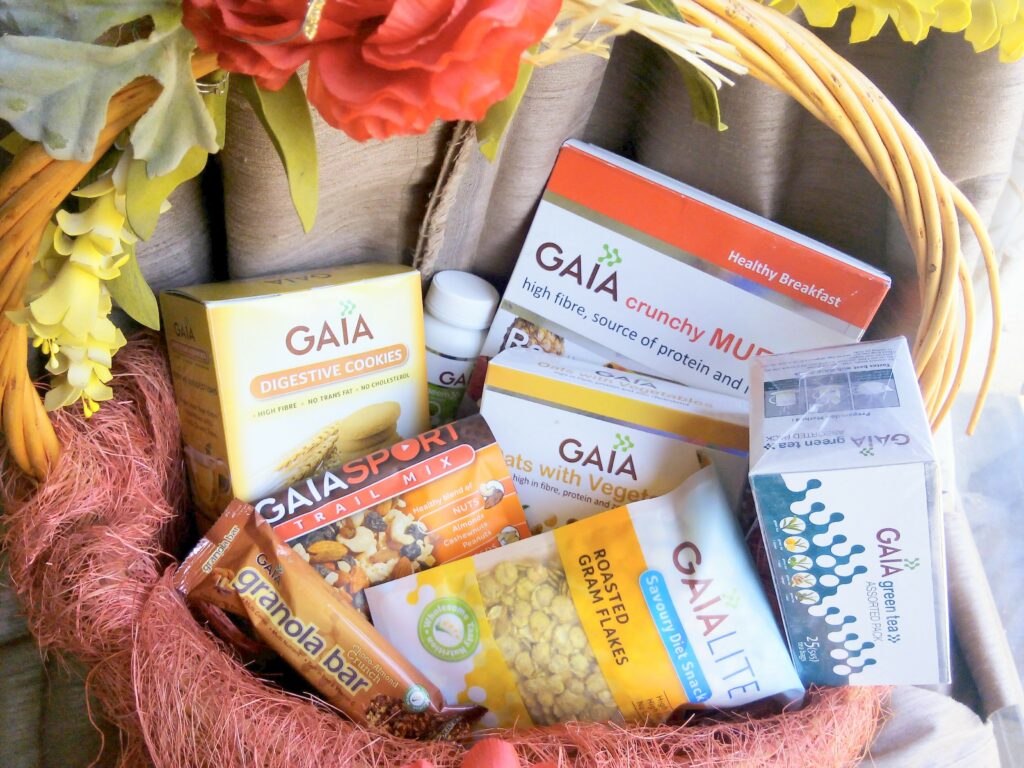 Firstly as I sit to type, let me take get my cuppa green tea ready.
I'll begin with the amazing Green Tea Assorted 25's
Category: Green Teas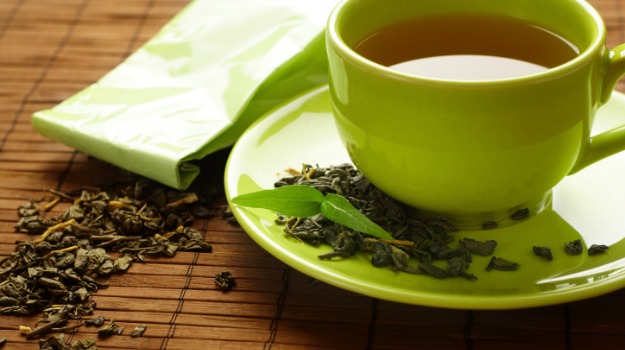 Imbibe healthy habits in yourself with GAIA's range of flavoured #greentea. A must have for those who want to loose weight safely and stay slim is Green Tea. Some like their green tea minty, some like it lemony while some prefer the simple and classic taste of plain green tea. For those who simply cannot decide on a single flavour or are yet to find their favourite, Gaia's Assortment Pack of green teas is the perfect option. With a collection of five variants from their popular line of green teas, this pack is perfect for gifting or for enjoying a different flavour each time.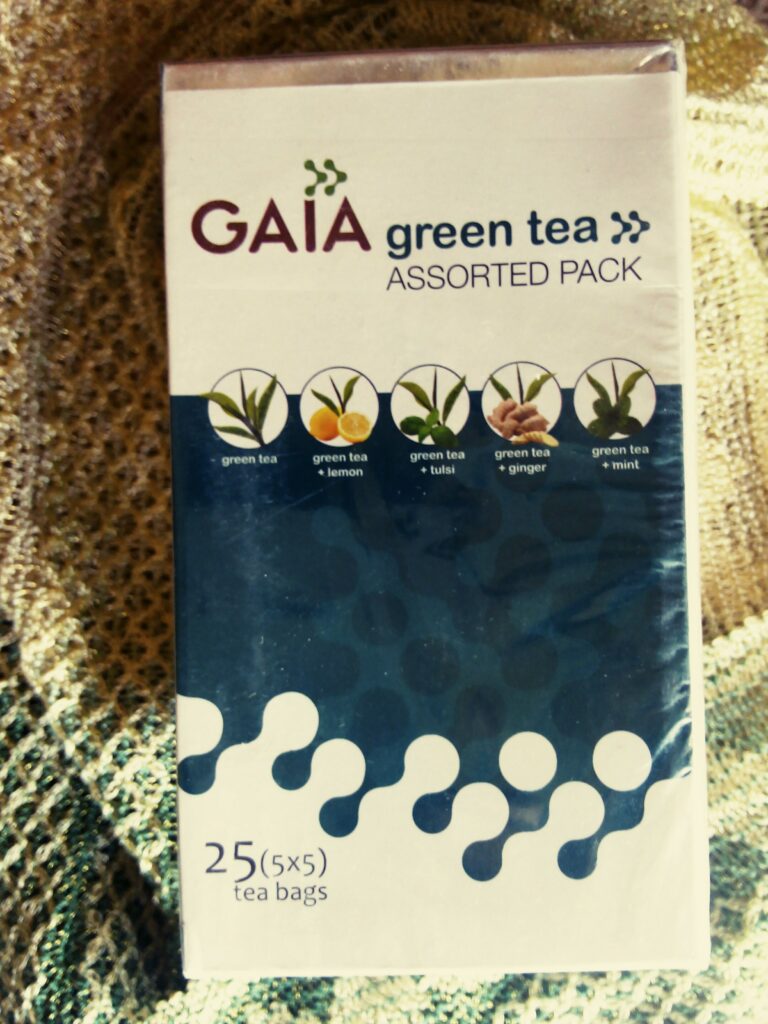 Switch to flavored #GreenTea for a smooth & lasting transition from traditional tea to green tea. #GreenTea can make your mood feel lighter and speed up your body's #metabolism. Gaia's assorted green tea can be just what you need to start your detox with. Grab your favourite flavour of green tea now and you will see the health benefits it has to offer.
Gaia Green Tea is packed with essential anti-oxidants that boost immunity and help fight stress and fatigue. A cup of green tea is a better alternative to normal tea as it enhances the body's metabolism and leads to improved digestion. It also helps regulate blood sugar and is beneficial for diabetics.
As green tea has fat burning qualities, it aids in weight maintenance too. Sip your way to health with Gaia Green Tea.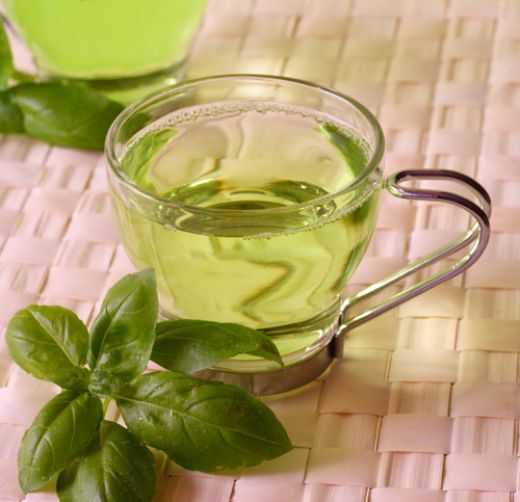 Gaia Tulsi Green Tea is the perfect alternative to regular tea and is a rich source of antioxidants that help build immunity and fight infections. It is a healthy concoction of green tea and tulsi, which has been shown to improve one's health since time immemorial. It not just strengthens the immune system but also aids in proper digestion by improving the metabolism and detoxifying the body. In addition, the essential oils in #Tulsi strengthen stomach & stimulate the salivary glands which provides relief to acidity as well as relieve symptoms of a dry mouth.
Gaia Jasmine Green Tea is a beautiful blend of invigorating green tea with the alluring aroma and delicate flavour of jasmine blossoms. Bright & mellow, fresh & soothing, every sip of this magical brew transports you to a world free of chaos. Being rich in antioxidants, green tea provides a myriad of health benefits like strengthening immunity, improving digestion, cleansing and detoxifying the body as well as enhancing skin health. Add to this, the benefit of the sweet fragrance of jasmine which scientific research shows has an instant calming and stress relieving effect. So sooth your anxious nerves with a cup of this superbly fragrant and healthy tea. Jasmine #GreenTea that can help get your #cholesterol under control.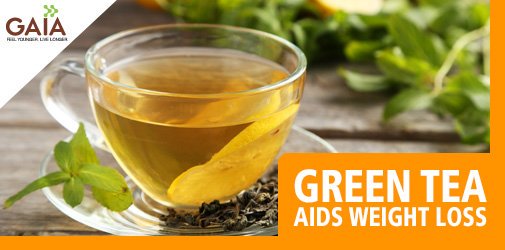 Gaia Ginger Green Tea is a refreshing mix of the goodness of green tea with the spicy taste of ginger. The anti-oxidant rich green tea aids in proper digestion and improves metabolism while therapeutic ginger helps sooth a sore throat and provides relief from common cold. #Ginger #GreenTea in which the #ginger present in infused #greentea called zingiber boosts #immunity and fights bacteria. #HealthTips
Gaia Green Tea Elaichi is a harmonious blend of anti-oxidant rich green tea with the goodness and aroma of Elaichi (Cardamom). Known for its numerous healing qualities like relieving constipation, improving blood circulation and cleansing the system, Elaichi boosts the nutritional value of green tea while adding extra flavour and taste. It is a healthy rejuvenating brew and a treat for both the mind and body.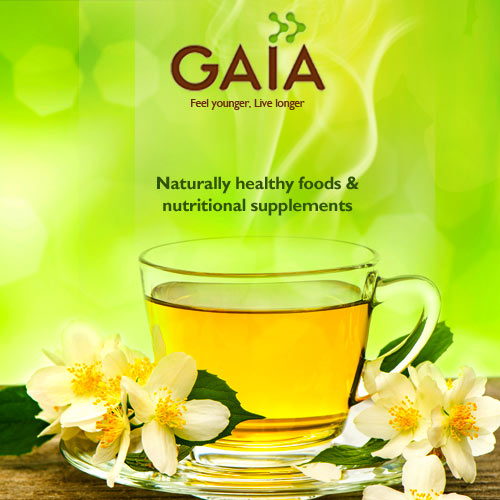 Blending the goodness of vitamin C with the therapeutic benefits of green tea, Gaia Lemon Green Tea is a healthy concoction that instantly renergises you.#Lemon #GreenTea gives you the benefits of catechin. With fat-burning qualities, it helps in weight management while keeping you fresh and active. It has a pleasing aroma and a lemony hint when brewed. Truly, the best of both worlds. Just sip and feel the difference yourself.
Gaia Green Tea Honey & Lime is a zesty blend of fine green tea, tangy lime and delicately sweet honey. This healthy potion of anti-oxidant rich ingredients helps strengthen your immune system, improves memory and aids in proper digestion. Its distinctive aroma and pleasant taste will instantly refresh and enliven you. Truly, an adventure for the senses!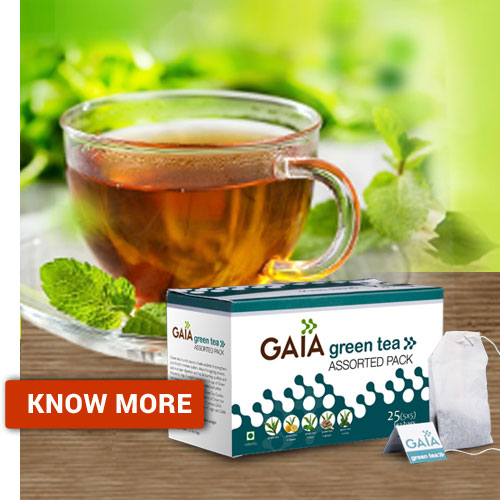 Refresh your senses with a hot cup of Gaia Mint Green Tea which is a renergising and healthy low calorie drink. The fresh mint flavour soothes the mind and reduces stress and fatigue. While green tea enhances metabolism and aids detoxification, the mint extract rejuvenates the system. Sip Gaia Green Tea Mint and feel the difference yourself.
Green tea provides long-lasting effects in one's lifestyle.
Drinking 2-3 cups of green tea every day, helps burn up to 100 #calories!
Increase your water levels and reap health benefits with Green Tea.
Reasons that will help you switch to green tea.
Aids in weight loss
Immunity booster
Brain booster
Combats allergies
Lower Your Risk of Type II Diabetes
Lower Risk of Cardio Vascular Diseases
Protector of your pearly-whites
Super-drink for 'super-skin'
Now about the Neem capsules
Category: Nutritional Supplements
Neem or Azadirachta Indica has anti-bacterial, anti-fungal and blood purifying properties. Neem helps prevent skin problems and keeps your skin healthy and glowing. It helps regulate blood sugar and is useful for people suffering from diabetes.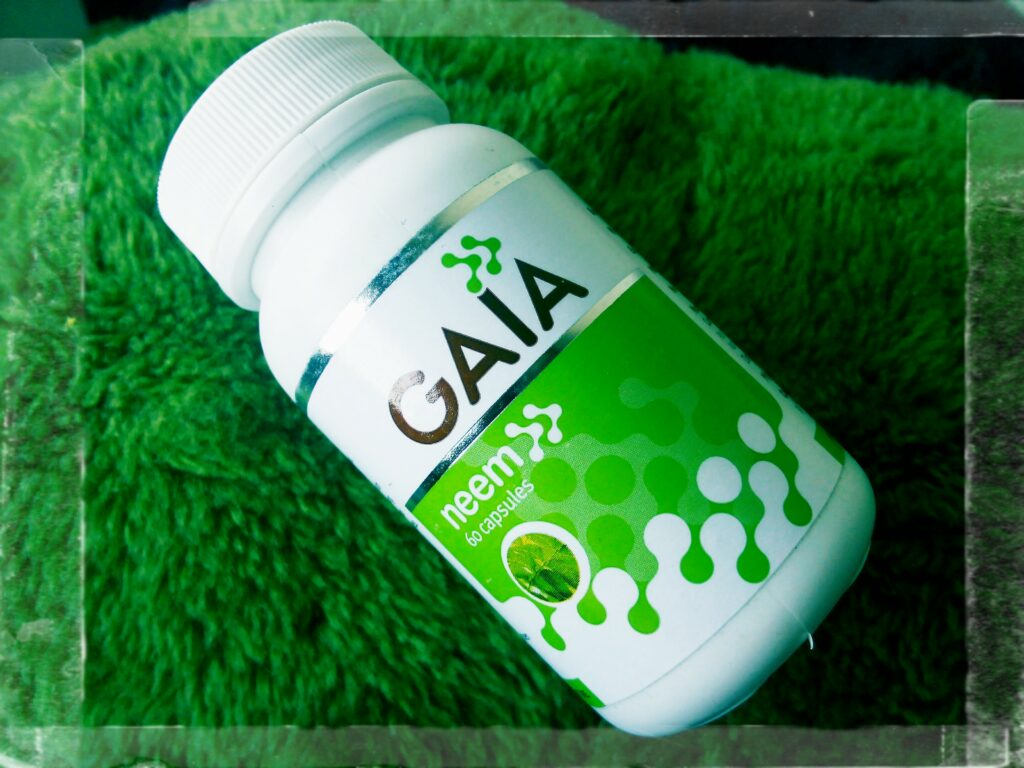 Neem Capsule increases the body's resistance against infections by strengthening the immune system and helps de-worm the intestines.
Neem Capsules helps in : Diabetes, Acne, Blood Impurities, Eczema, Dermatitis, Infections
Features:
100% Natural.
No side effects.
Antibacterial and Antifungal.

Benefits of Gaia Neem capsules:
Neem has antiviral properties. Its leaves extracts absorb viruses and prevent them from harming the body. Neem leaves possess antibacterial and antiseptic benefits. It has been used to treat many different skin conditions, for example, acne, rashes, psoriasis, and eczema. It is capable of reducing acne and pigmentation and relieves re-occurrence of blackheads. It works well in delaying signs of skin ageing. It has antifungal properties and hence hazardous to fungus. Neem's powerful antibacterial activity makes it a well-known ingredient in toothpaste, mouthwash and oral health tonics. It also functions as a spermicide and could prevent sexually transmitted infections when used as a vaginal suppository. It is also used in the treatment of osteoarthritis and rheumatoid arthritis. It also helps in reducing blood sugar, which makes it useful for people suffering from diabetes. It has detoxifying benefits that help maintain healthy circulatory, digestive, respiratory, and urinary systems.
Ingredients:
100% Pure Neem extracts.

How to use:
1 or 2 Gaia Neem capsules twice a day with meals. Use it for several weeks for long lasting benefits.
Coming next to Granola bars…..yum yum!
Category: Health Bars
Its time for me to enjoy a power packed health energy bar. Let me spill some facts about Gaia's Granola Bar which is a low-fat energy bar made of muesli, almonds and flavoured with chocolate. A healthier alternative to junk food and loaded with multi cereals, multi nutrients and rich in iron & vitamin C, Gaia Granola Bar is a tasty any time snack. It is better than other protein or energy bars available in the market as it is made of muesli, which in itself is wholesome and nutritious.So you may ask why granola bars?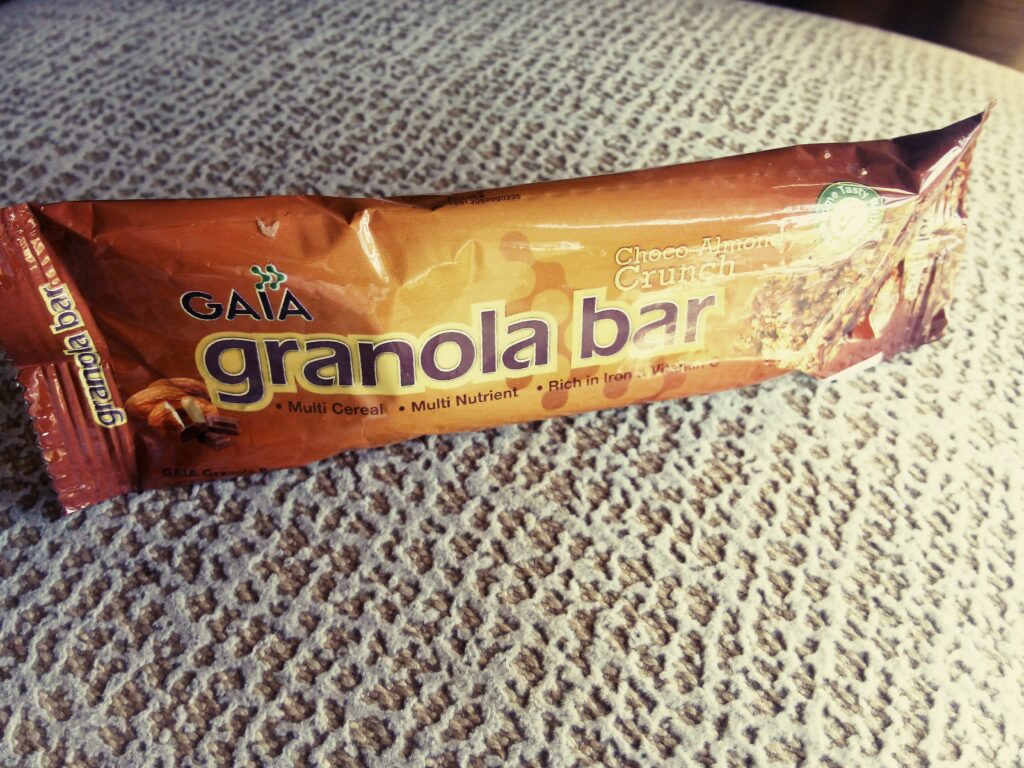 Thats because they are tasty,not too sweet, got a bit of a crunch, healthy and packed with goodness. When I am running late for work and have no time for breakfast, I just grab a granola bar on my way out. Even if you don't have time for a pre-workout meal, you can opt for a healthy granola bar instead!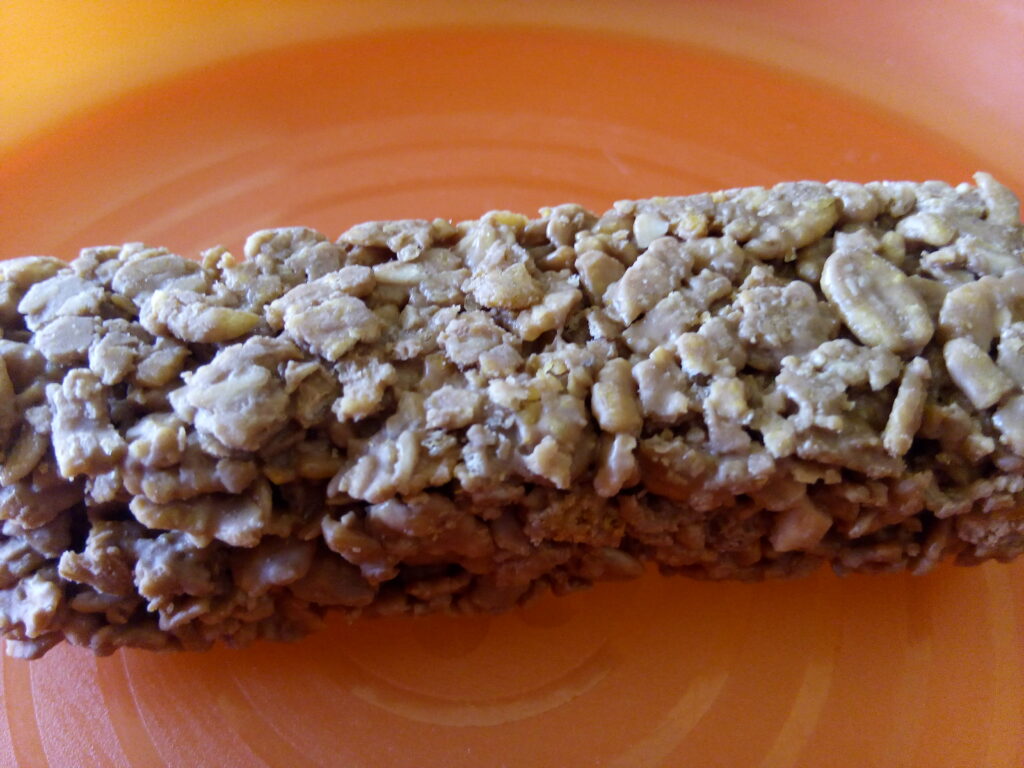 Now moving on to Gaia Oats with Vegetables
Category: Oats
This is perfect when you are tired of the regular breakfast. It is rich in dietary fibre and protein, a power-packed snack to start the day.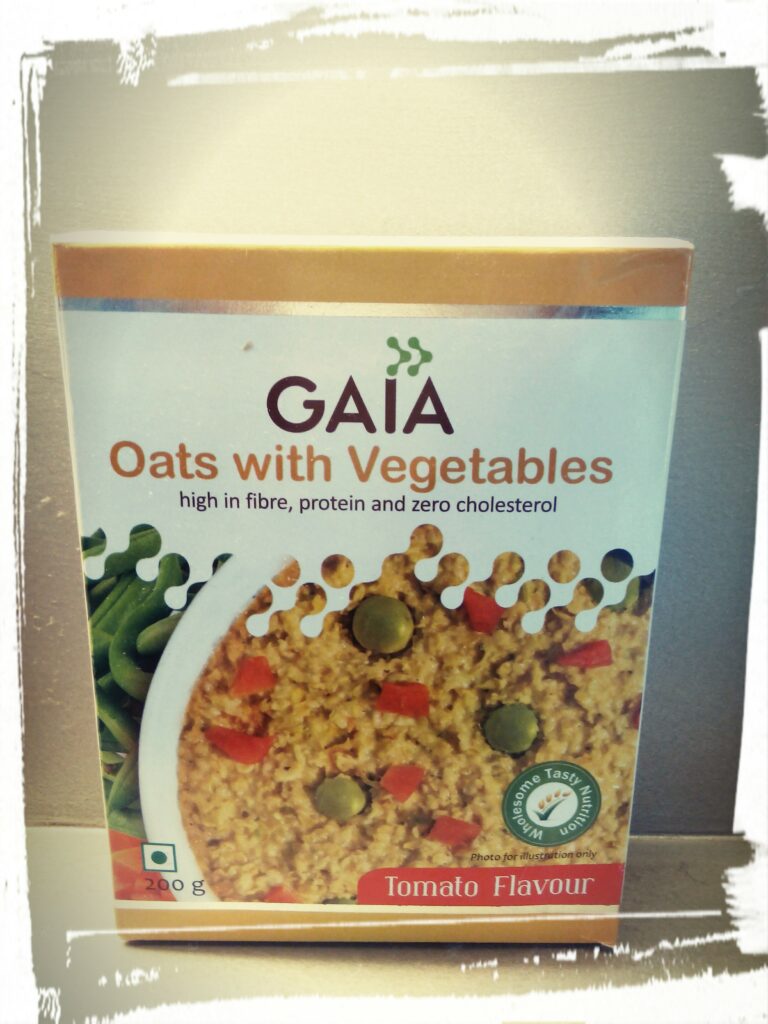 Gaia Oats comes with vegetables and spices to create a delectable dish that not only nourishes but is also savoury for your taste-buds. Just, 100 calories per serving is enough for you to be charged up and have a day that is healthy and nourishing.
Get your daily dose of scrumptiousness and health and see the difference yourself. It will keep you full and going till the end of the day with long lasting energy.
I love the flavours and best part is it so easy to make! The perfect breakfast.
Oats are great for the heart, burning belly fat, preventing cardiovascular disease and hypertension, so say YES to oats! With Gaia's #oats with #vegetables, get the perfect balance of #health and taste.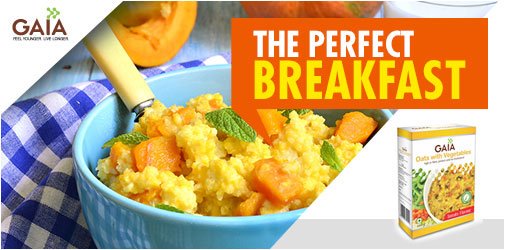 Now lets me share about GAIA Roasted Gram Flakes
Category: Gaia Lite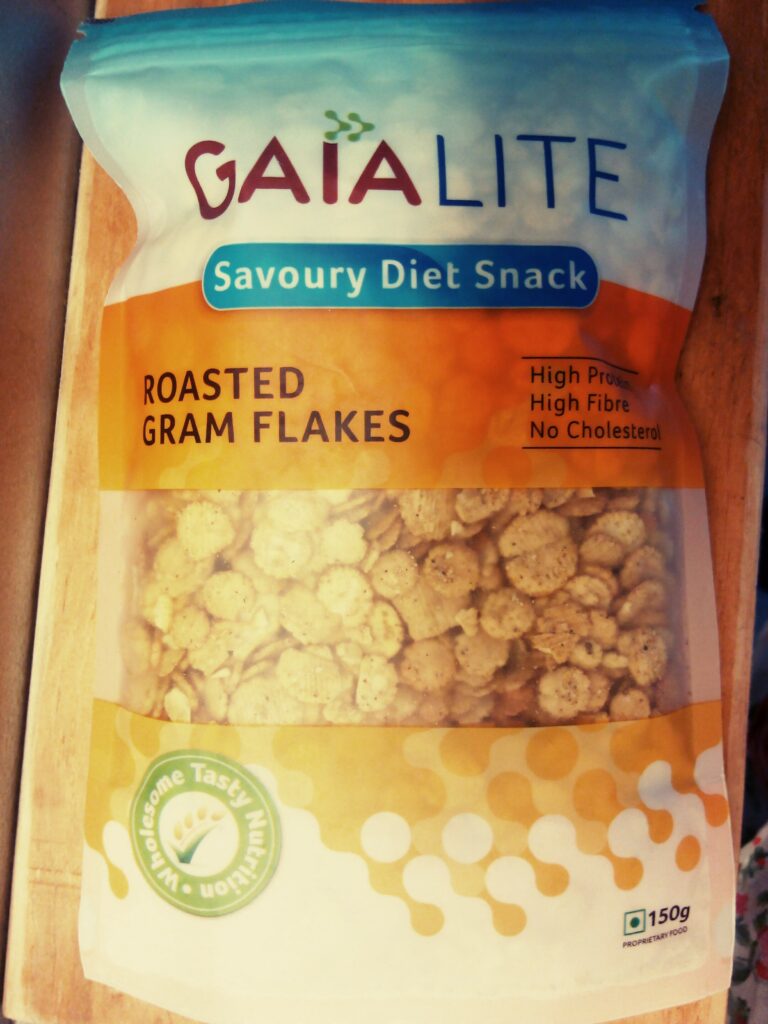 Create a new dish with this yummy snack and voila you can reinvent the bhel puri with a twist! Add some chopped onions, tomato, peanuts, sev and kurmura with a dash of corriander leaves.
Gaia Lite brings you a roasted, nutritious snack, made of whole gram tossed with a delectable mix of spices. High in protein and fibre with no cholesterol and trans fat, it is the perfect guilt free, yet satisfying in-between-meals munch.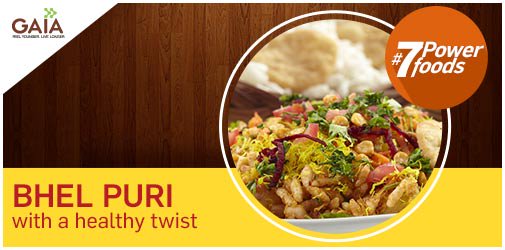 Grams also known as chickpea is excellent gluten free source of protein, iron and B group of vitamins. It is known to help balance blood sugar levels and provides a steady source of energy!!
Now here is one of my favourites Gaia Digestive Cookies
Category: Cookies

Gaia digestive cookies, a healthier alternative to the usual high on fat and low on nutrition snacks.They are specially blended to fortify your system with the goodness of probiotics while providing the daily requirements of fibre. High on fibre with no cholesterol and no trans fat, these cookies are for all those who wish to have a more balanced tea time. Relish these crispy bites as a perfect any time snack, anytime of the day.
Use Gaia Digestive Cookies as a base for any cheesecake to reduce carbs. Delicious!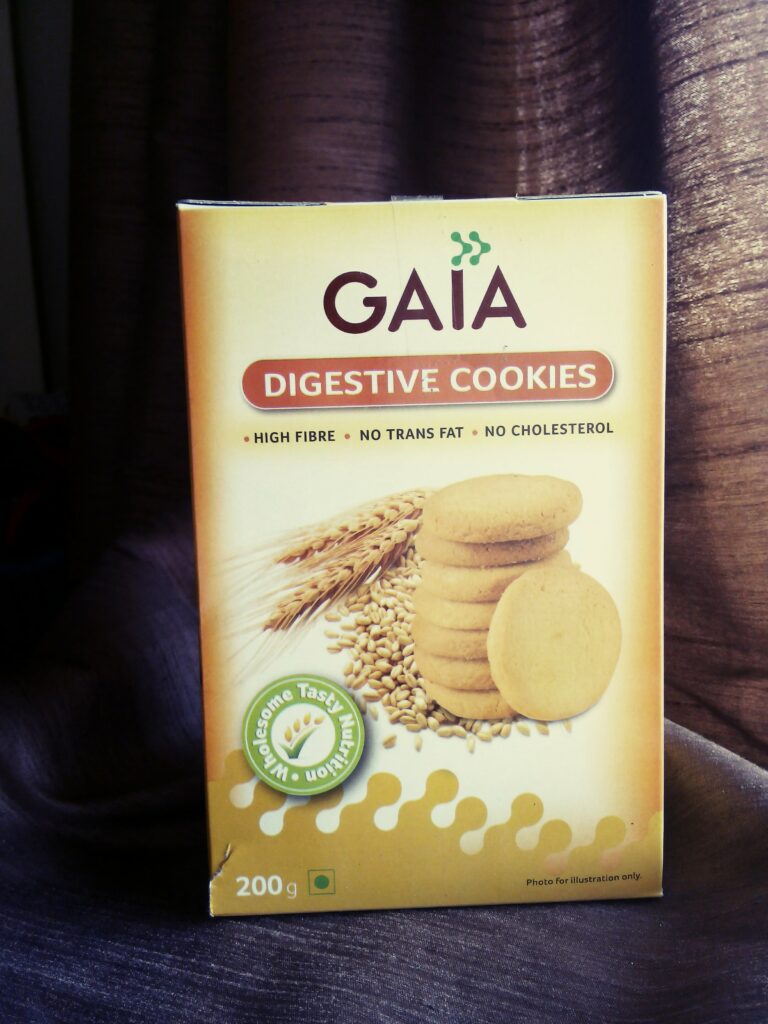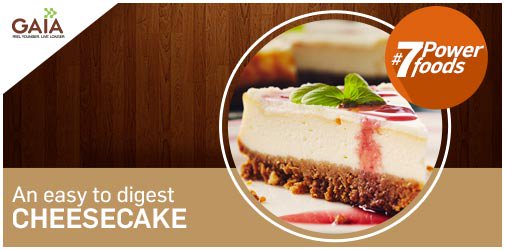 So who's a Museli lover? I love Gaia Muesli Real Fruit
Category: Mueslis
Say hello to a healthy breakfast filled with yumminess and delight!
Whether with yogurt, fresh fruits or dry fruits you can invent your own dish of healthy breakfast mania!
A delicious combination of healthy multi-grains and succulent pieces of papaya, apple, pineapple and raisins. While the rolled oats, wheat flakes and corn flakes provide you with a good dose of fibre, the added chunks of fruit give nourishment and bursts of flavor in every bite.
If breakfast is your favourite meal in the day, then add a dash of honey to Muesli with chopped bananas, apples,mint leaves or dry fruits and keep yourself active all day long. Whipped cream for some drama.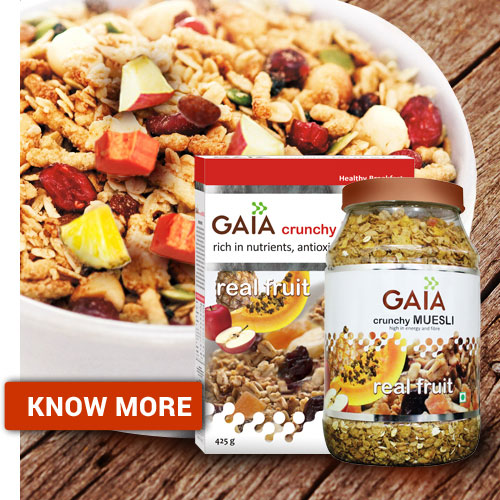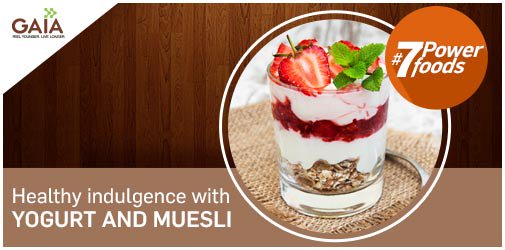 Now for a dose of Gaia Trail Mix
Category: Gaia Sport
Gaia Sport Trail Mix is loaded with protein, fibre, good fats and essential vitamins and minerals.A truly power-packed healthy snack, its combination of dried fruit, nuts and seeds not only makes it highly nutritious, but mouthwatering tasty as well. It gives you strength and stamina for vigorous activities or any form of exercise such as walking, running, cycling etc. So grab a pack of Gaia Sport Trail Mix and GET-SET-GO.High on proteins and good fats, this energy packed snack makes for a unique subsitute for chocolate since it contains a healthy blend of nuts, seeds and dried fruit (will give a sweet taste). Nutritiously satisfying, the trail mix will keep those sugar pangs at bay and give you an energy boost for the day.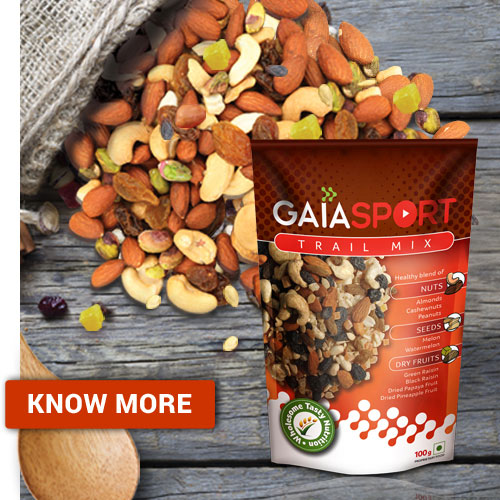 Features:
No artificial flavours
High protein
High fibre
Source of Iron
No Cholestrol
No Trans Fat
It is loaded with good fats that keep you going with gusto, high proteins, fibre, essential vitamins and minerals. Sprinkled with crunchy seeds for an extra boost of nutrients
Proper nutrition keeps your energy up and focus primed. Grab your bikes or plan a hike taking along this healthful snack, which provides a quick carbohydrate-fueled boost paired with sustained energy from heart-healthy fats from nuts included in trail mixFrom scrumptious #cookies to rich #honey, there's plenty of healthy options to snack on with Gaia super range of products.
It's never too late to begin your healthy #routine, so get to it!
A healthy body reflects a healthy lifestyle. Make that lifestyle change you've been dreaming of, NOW!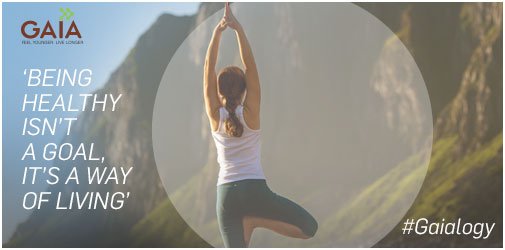 A healthy life = A happy life, so live it like you mean it.
Keep smiling. Eat right, stay healthy and be happy!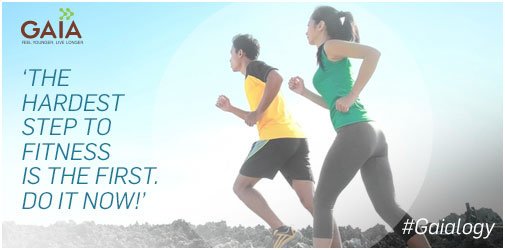 A diet is hard to follow, but once #healthy living becomes part of your lifestyle, it's effortless. Lets live life the #Gaialogy way!
Sources : www.healthyworld.in , www.gaiagoodhealth.com