Grover Zampa Vineyards – La Réserve
6 min read
On 12th April 2016 India's premium wine maker Grover Zampa Vineyards unveiled the smashing new look of its signature wine La Réserve. To commemorate this occassion the distinguished wine maker hosted a perfect evening for its faithful and respected patrons with this unique concept of La Réserve Barbeques at the JW Cafe, JW Marriott, Mumbai.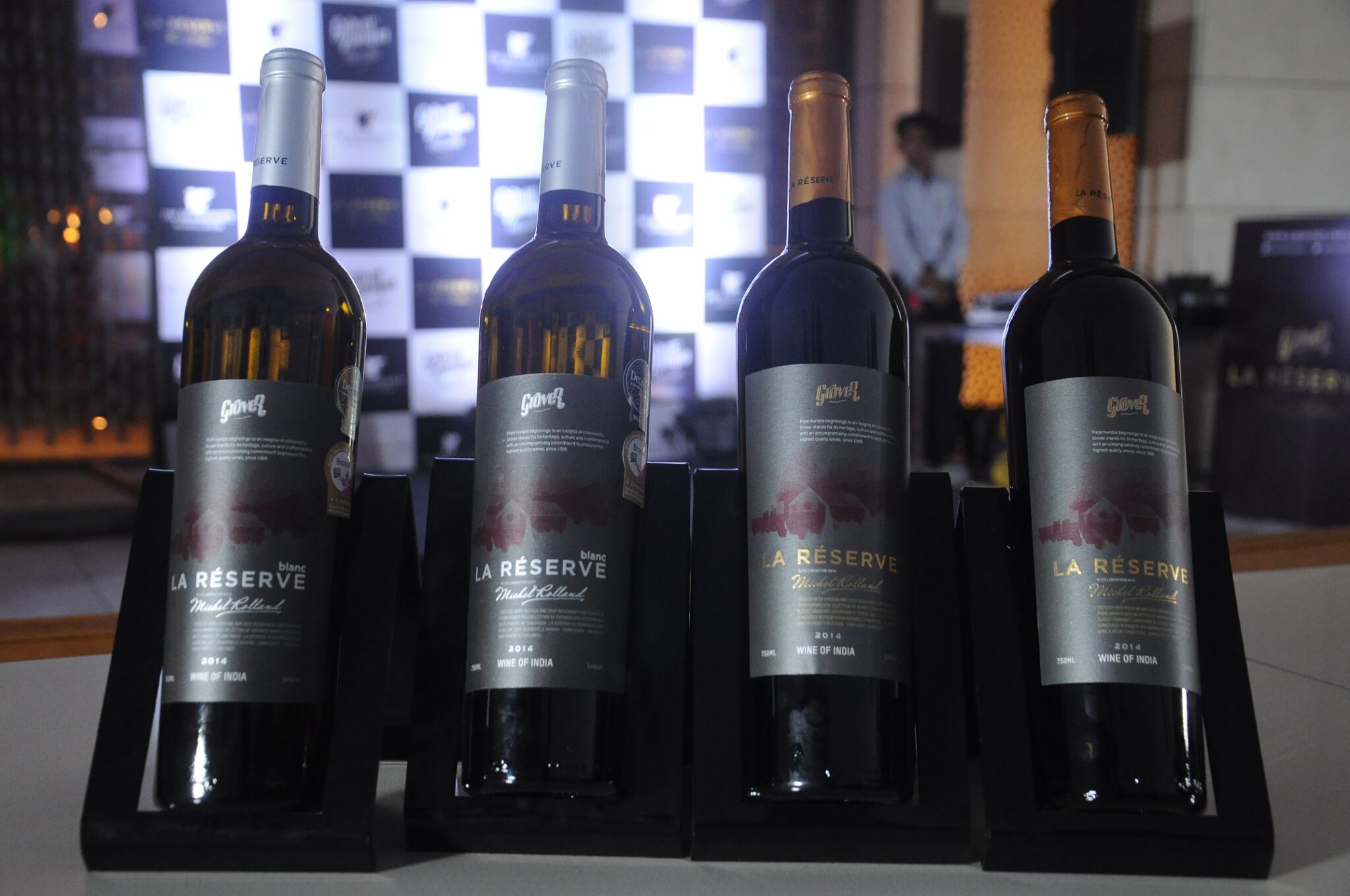 On 12th April 2016 India's premium wine maker Grover Zampa Vineyards unveiled the smashing new look of its signature wine La Réserve. To commemorate this occassion the distinguished wine maker hosted a perfect evening for its faithful and respected patrons with this unique concept of La Réserve Barbeques at the JW Cafe, JW Marriott, Mumbai.
It was a thrilling opportunity for me to be part of this glorious event and I truly enjoyed every moment, right from wine tasting, including those themed with barbeque foods, to the exquisite deserts. This was to a backdrop of a serene ambience, making for a very soothing evening. Below is a pic of me bubbling with excitement.

What an opportunity to make new friends over some wine!
Below is a pic of me enjoying La Réserve "Cabernet Shiraz". This La Réserve is a powerful concoction of luscious ripe red and black fruits with an exquisite hint of spice. It combines grace and splendor on the palate with a choice of chocolate, coffee beans and vanilla flavours. The finish is long, ample and almost magical.
This attractive wine serves well to complement roasted lamb, tenderloin, pasta dishes, game, pâté, soft full flavour cheeses & can also match Indian specialties such as lamb kebabs and mutton biryani perfectly.

The evening offered the attendees a unique blend of the award winning wine 'La Réserve' and delectable barbequed delicacies.
Below is a pic of 'La Réserve' sparkling wine with Corn & Cheese mini quiche, chicken and prawns.

The first vintage of La Réserve released in 1998, was a brainchild of Grover Zampa Vineyards and world's finest œnologue, Michel Rolland. The new look of the brand represents the age old tradition and reverence, international standards of quality, finesse, sophistication, elegance and maturity.

The majestic Indian wine La Réserve is widely regarded as the best Réserve in India is greatly enjoyed by epicureans in the most exclusive and prestigious restaurants in over 20 countries. La Réserve has not only won the hearts of patrons across but received many honors across platforms including Bronze & Silver medals at Decanter awards, Bronze medal at New York World Wine & Spirits competition etc. La Réserve was also the first India Wine to have made to it to the table of a 3 Michelin-star restaurant, the wine was selected in the menu by L'Arpège in Paris, one of the most esteemed restaurants in the world.
(Left to right) Mr. Sumedh Mandla, Miss Karishma Grover, Mr. Grover)

Speaking about the launch of this unique experience Mr. Sumedh Mandla, CEO, Grover Zampa Vineyards said, "Over the last 18 years La Reserve has charmed the world with its class and elegance. The change comes as a part of our strategy to stay relevant to the changing times and evolving consumer behavior. We also introduced a unique concept – La Réserve Barbeques today, to provide an experience to wine connoisseurs and enthusiasts while making them discover the pleasure of pairing the La Réserve range with barbeque delicacies."
He further added "A good paring is one where there is a perfect match and balance between the components and structure of wine and that of food it is paired with."

Also commenting on the launch and association, Mr. Saeid Heidari, General Manager, JW Marriott Mumbai Sahar said, "We at JW Marriott Mumbai Sahar are very delighted to play host to this significant event. The wines from La Réserve are the best India has to offer which complement the quality of product that we provide our guests. Our team of chefs have carefully studied every detail of the wines and carved out gorgeous barbecue delicacies to compliment the same."
Glimpses of the lovely evening I had with Grover Zampa.

Wine & dine paired with barbeque foods.

Wine discussions
The amazing ambience with music and lights and wine all around.
The food corner beautifully lit up.
Mr. Surjan Singh Jolly, Director-Food & Beverages, JW Marriott Mumbai Sahar adressing the audience.
It was an evening well spent. Do try out the wines and let me know which one is your favourite 🙂 You can read on about La Réserve & Grover Zampa Vineyards for more information.
About La Réserve
La Réserve has been created with passion and reverence for tradition, from hand-picked selection of some of Grover Zampa's oldest Cabernet Sauvignon and Shiraz vines. Matured in new French oak barrels, the wine gains intense structure and complexity and the finish is exquisite: long and almost magical. La Réserve Blanc is elaborated vintage after vintage with the same zeal, uncompromised quality and respect for traditions. Hand – picked and bunch pressed selection of Viognier grapes from Grover Zampa's best parcels at the vineyards are used to make this wine. It is fermented in barrels and then aged on lees in the barrel, gaining complexity, richness and a perfect balance.
About Grover Zampa Vineyards:
Grover Zampa Vineyards, believe that a wine should bring out the most faithful expression of its grape varietal and terroir.
The appearance, colour, bouquet and flavour of a wine coalesce to reveal a story. Stories of where the wine was made, of the fruit that gave it flavor and of all processes and elements that give it a unique structure.
Nandi Hills is a picturesque region dotted with sloping green hillsides and miles of forestland, inhabited with incredibly beautiful wild life. In such paradisiacal landscape, stand the vineyards.
The region offers tranquil surroundings, a rich history and beautiful vistas to the travelers and also allows them to train their binoculars over the spectacular Asian Paradise Flycatchers, Bulbuls, Blue Capped Rock Thrush, Tawny Eagles, and Puff-Throated Babblers.
Grover Zampa Vineyards (GZV) are the pioneers and most prestigious wine producers for India. The company owns wineries and vineyards in both the Nandi Hills in Karnataka and in the Nashik Valley in Maharashtra. Working with limited yields, sustainable viticulture practices and selective hand harvesting, the winemaking is carried out by a team of local oenologists under the direction of international French wine consultant Michel Rolland and French winemaker Mathias Pellisard. A remarkable combination formed as a result of a merger between Grover Vineyards Ltd (GVL) and Vallee De Vin Pvt Ltd (VDV). GZV boasts the most impressive pedigree in the Indian wine industry today and is also largest exporter of wines from India to over 20 countries. The winemaker created history by winning an international trophy for Art Collection Sauvignon Blanc in 2014. They have won as many as 57 international awards in the last 3 years, 25 of which they won last year itself including prestigious wins at Cathay Pacific Hong Kong International Wine and Spirits competition, New York World Wine and Spirits competition, Decanter World Wine and the Decanter Asia Wine Awards 2015 respectively.
For more information visit- www.groverzampa.in
About JW Marriott Mumbai Sahar
JW Marriott Mumbai Sahar opens doors to effortless elegance and sophistication. Located 1 km away from the Chhatrapati Shivaji International Airport Mumbai; making it an ideal destination for business and stay. With 585 intimate rooms, the property offers authentic cuisines crafted with passion, care and local flavours. With over 56,000 sq.ft. of indoor and outdoor convention space, the property offers 11 well-appointed meeting rooms with state-of-the-art conferencing facilities. The holistic Spa by JW offers a host of therapies to help you relax. At crafted perfectly so you are always left with the experience and luxury you truly desire.
Visit us online, http://www.marriott.com/hotels/travel/bomsa-jw-marriott-mumbai-sahar/, @jwsahar and www.facebook.com/JWSahar